Description
Edit
Elegant, delicious, quick and easy appetizer. If you have to hunt for Camembert Cheese, it is well worth your time.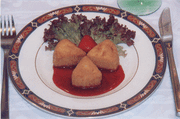 Ingredients
Edit
Directions
Edit
Mix the cayenne pepper and the flour, then roll each Camembert portion in flour, then in egg and then in breadcrumbs.
Heat the oil in a deep fryer to 350 degrees Fahrenheit or until a bread cube browns in 60 seconds.
Fry the portions of Camembert for 30 seconds or until golden brown.
Drain on kitchen paper.
Garnish with Apple wedges and serve immediately.
Ad blocker interference detected!
Wikia is a free-to-use site that makes money from advertising. We have a modified experience for viewers using ad blockers

Wikia is not accessible if you've made further modifications. Remove the custom ad blocker rule(s) and the page will load as expected.