Ingredients
Edit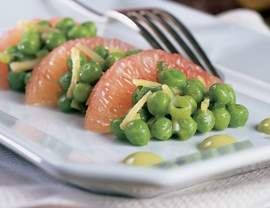 Directions
Edit
In large skillet, melt 3½ tablespoons salted butter over low heat, and cook scallions and ginger until softened, about 7 minutes.
Continue cooking over low heat until peas are just tender.
In saucepan, melt unsalted butter with 1 cup water.
Using electric mixer, beat to thicken and form emulsion.
Pour emulsion over coriander leaves in mixing bowl.
Mix with electric mixer and strain.
Peel grapefruit, and cut into thin segments.
Cut each segment of grapefruit in half.
To serve, arrange alternating pieces of grapefruit with portion of peas, and spoon coriander sauce around perimeter.
Ad blocker interference detected!
Wikia is a free-to-use site that makes money from advertising. We have a modified experience for viewers using ad blockers

Wikia is not accessible if you've made further modifications. Remove the custom ad blocker rule(s) and the page will load as expected.