Description
Edit
From Organic Gardening magazine (1985). A lovely soup made delicious with pesto. Enjoy!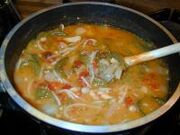 Ingredients
Edit
Directions
Edit
In a heavy pot (about 8-quart size), combine green beans, onions, potatoes, tomatoes and stock.
Bring to a boil, then simmer until beans and potatoes are crisp tender.
Add the cooked white beans with their cooking water (or liquid from cans) and vermicelli, and simmer until the vermicelli is just tender.
Stir this paste into the soup, bit by bit.
Adjust seasoning if necessary.
After the sauce has been added, the soup may be warmed, but not boiled.
Serve with hot or toasted slices of french bread.
Ad blocker interference detected!
Wikia is a free-to-use site that makes money from advertising. We have a modified experience for viewers using ad blockers

Wikia is not accessible if you've made further modifications. Remove the custom ad blocker rule(s) and the page will load as expected.