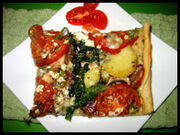 Ingredients
Edit
Directions
Edit
Clean mushrooms.
Leave caps whole, but chop stems coarsely.
Fry in ½ cup oil till soft.
Set aside to drain.
Add to a frying pan with celery, lemon juice, tomato paste, thyme, bay leaf, coriander, wine and the rest of the oil.
Season and simmer for 20 to 25 minutes.
onions should be tender.
Remove mushrooms to a shallow dish and bring remaining ingredients to a rapid boil for 4 minutes.
Pour over mushrooms and chill till ready to serve.
Ad blocker interference detected!
Wikia is a free-to-use site that makes money from advertising. We have a modified experience for viewers using ad blockers

Wikia is not accessible if you've made further modifications. Remove the custom ad blocker rule(s) and the page will load as expected.