Ingredients
Edit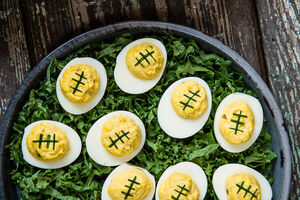 6 hard cooked eggs, peeled and cut lengthwise
2 Tablespoons mayonnaise
1 Tablespoon sweet pickle relish
2 teaspoons spicy brown mustard
Salt and pepper to taste
Paprika
Chives (for decoration)
Instructions
Edit
Using food processor S-blade, process egg yolks, mayonnaise, mustard, pickle relish, salt and pepper until smooth.
Pipe yolk mixture into each egg white half. Sprinkle each egg with paprika.
Cut the chives into small pieces so you can create the lines on the football, as seen in the photo above.
Ad blocker interference detected!
Wikia is a free-to-use site that makes money from advertising. We have a modified experience for viewers using ad blockers

Wikia is not accessible if you've made further modifications. Remove the custom ad blocker rule(s) and the page will load as expected.