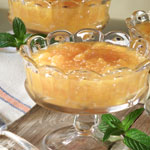 Description
Edit
A sweet soft pudding made of stewed fruit (usually Berries) thickened with cornstarch.
Ingredients
Edit
Directions
Edit
Pour warm water over the oat flakes, stir well and put in a warm place to sour.
It will take twenty-four hours, so leave it for a whole day.
To quicken the souring you may put a piece of rye bread in the mixture.
After the mixture is sour, strain it.
Pour the liquid in a pot or casserole and boil stirring all the time until it thickens.
As a dessert serve cold with jam and milk.
Ad blocker interference detected!
Wikia is a free-to-use site that makes money from advertising. We have a modified experience for viewers using ad blockers

Wikia is not accessible if you've made further modifications. Remove the custom ad blocker rule(s) and the page will load as expected.