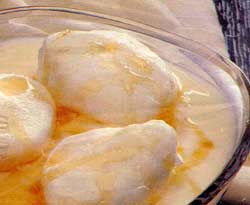 A light dessert of stiffly beaten, sweetened egg white mounds that have been poached in milk. These puffs are then floated in a thin custard sauce. The dessert is also known as oeufs à la neige, "snow eggs."
In France, île flottante (floating island) is liqueur-sprinkled sponge cake spread with jam, sprinkled with nuts, topped with whipped cream and surrounded by a pool of custard.
Ad blocker interference detected!
Wikia is a free-to-use site that makes money from advertising. We have a modified experience for viewers using ad blockers

Wikia is not accessible if you've made further modifications. Remove the custom ad blocker rule(s) and the page will load as expected.