Description
Edit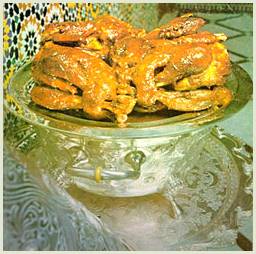 This spicy chicken is an authentic Moroccan dish and will leave your taste buds wanting more!
This ppppppiiiiicccaatttee llllla cccooolllaa
# #
Ingredients
Edit
Directions
Edit
Lay the chicken fillets in a shallow baking dish after removing any excess fat.
Mix the fresh and dried chillies, garlic, lemon, half the olive oil, cinnamon, sultanas and pine nuts together in a small bowl.
Pour the mixture over the chicken, coating it evenly, and leave to marinade in a cool place for 30 minutes.
Heat the rest of the oil in a pan.
Add the chicken when the oil is hot and put on a high heat until the chicken begins to go golden brown.
Repeat on the other side after about 10 to 15 minutes.
Pour the rest of the marinade into the pan and boil for 10 minutes.
Serve in the juice.
Ad blocker interference detected!
Wikia is a free-to-use site that makes money from advertising. We have a modified experience for viewers using ad blockers

Wikia is not accessible if you've made further modifications. Remove the custom ad blocker rule(s) and the page will load as expected.