Description
Edit
This is a real delicious dish. Note that the cooking time is extensive, but it is worth every minute!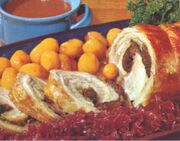 Ingredients
Edit
Directions
Edit
Peel and slice the apples and spread with the prunes over two thirds of the pork and roll it like a roulade.
Tie with cotton.
Simmer for about 2 hours or until tender.
Slice roulade and serve with the thickened sauce, boiled potatoes, cranberry or red currant jelly and red cabbage.
The roulade can also be cooked in the oven for 2 hours at 170°C.
Ad blocker interference detected!
Wikia is a free-to-use site that makes money from advertising. We have a modified experience for viewers using ad blockers

Wikia is not accessible if you've made further modifications. Remove the custom ad blocker rule(s) and the page will load as expected.