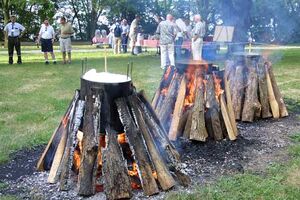 An herb and spice mixture specifically created to complement fish and shellfish. The blend varies depending on the manufacturer, but typically includes allspice, bay leaves, cloves, ginger, mustard seeds, peppercorns and red chilies.
An outdoor picnic in which fish, new potatoes and usually onions are cooked in huge pots of salted water over an intensely hot open fire.
Ad blocker interference detected!
Wikia is a free-to-use site that makes money from advertising. We have a modified experience for viewers using ad blockers

Wikia is not accessible if you've made further modifications. Remove the custom ad blocker rule(s) and the page will load as expected.