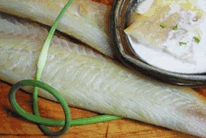 Named after Findon, Scotland, a fishing village near Aberdeen, finnan haddie is partially boned, lightly salted and smoked
haddock
. It was originally smoked over peat fires, a rarity now in wide commercial production. In the British Isles, finnan haddie has long been a favorite breakfast dish. Finnan haddie is best baked, broiled or poached. It's generally served with a cream sauce.
Ad blocker interference detected!
Wikia is a free-to-use site that makes money from advertising. We have a modified experience for viewers using ad blockers

Wikia is not accessible if you've made further modifications. Remove the custom ad blocker rule(s) and the page will load as expected.