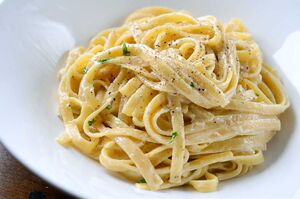 Egg noodles with butter and cheese
Ingredients
Edit
Directions
Edit
Cream butter Until Light. Add Cream Gradually, Beating Constantly. Beat in Cheeses. Cover And Set Aside. if butter Cheese Mixture is Not to be Used at Once, Refrigerate. Let Come to Room Temperature Before Using. Warm Serving Bowl And Plates by Putting in Oven Set on lo Heat Setting. Cook fettuccine Noodles According to Package Directions. Rinse And Drain. Pour Into Warmed Serving Bowl.
Add Creamed Butter/Cheese Mixture And Toss With The fettuccine With 2 Forks Until Well Coated. Season to Taste With salt And pepper. Garnish With Saut?ed Mushrooms if Desired. Pass Extra Parmesan cheese. Serve at Once on Warm Plates. Serves 6 to 8
Ad blocker interference detected!
Wikia is a free-to-use site that makes money from advertising. We have a modified experience for viewers using ad blockers

Wikia is not accessible if you've made further modifications. Remove the custom ad blocker rule(s) and the page will load as expected.