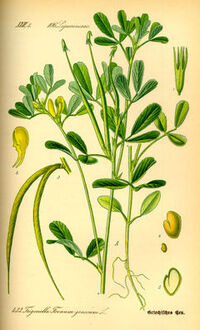 About Fenugreek sprouts
Edit
The young leaves and sprouts of fenugreek are eaten as greens and the fresh or dried leaves are used to flavor other dishes. In the Arabian nation of Yemen it is the main condiment and an ingredient added to the national dish called Saltah. The similarity in the Arabic word Hulba and Mandarin Chinese word Hu lu ba reveal the significance of fenugreek in history. Fenugreek is also one of four herbs used for the Iranian recipe Ghormeh Sabzi.
Ad blocker interference detected!
Wikia is a free-to-use site that makes money from advertising. We have a modified experience for viewers using ad blockers

Wikia is not accessible if you've made further modifications. Remove the custom ad blocker rule(s) and the page will load as expected.