Ad blocker interference detected!
Wikia is a free-to-use site that makes money from advertising. We have a modified experience for viewers using ad blockers

Wikia is not accessible if you've made further modifications. Remove the custom ad blocker rule(s) and the page will load as expected.
Description
Edit
Contributed by Healthy Recipes for Diabetic Friends Y-Group
Source: Diabetic Living Diet
Prep Time: 20 minutes | Cook Time: 4 minutes | Total Time: 24 minutes
Servings: 4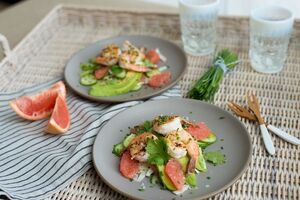 Ingredients
Edit
Directions
Edit
Section pomelo or grapefruit and orange over a small bowl to catch juices; add enough fresh orange juice to equal ¼ cup.
For dressing, add salad oil, honey, lime juice, lemon juice, garlic, and white pepper to reserved juices.
Whisk until combined.
Set dressing aside.
Cook the fennel and onion in hot cooking oil for 2 minutes; cool to room temperature.
Meanwhile, rinse shrimp; pat dry.
Cook in boiling water about 2 minutes or until shrimp turn opaque; drain.
Rinse with cold water; drain again 5.
Arrange lettuce on 4 plates.
Place onion and fennel mixture in center; arrange shrimp, pomelo or grapefruit sections, and orange sections around center.
Drizzle with dressing.
Nutritional information
Edit
Per Serving:
195 Calories | 8g Total Fat | 2g Saturated Fat | 169mg Sodium | 17g Carbs | 1g Dietary Fiber | 0g Sugars | 131mg Cholesterol | 16g Protein
Exchanges: 1½ vegetable | ½ fruit | 2 lean meats | ½ fat
Carb Choices: 1