Description
Edit
Lebanese bread salad
Fattoush - Lebanese Bread Salad from the Public Health Cookbook by the Seattle & King County Department of Public Health—original source of recipe, public domain government resource
Ingredients
Edit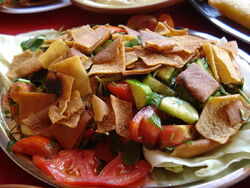 Dressing
Edit
Directions
Edit
Preheat oven to 350 °F. Cut the pita bread in half then separate the layers. Lightly spray with nonfat cooking spray then place on a baking sheet and bake for about 7 – 8 minutes or until golden brown. Remove from oven then break the bread into bite-sized pieces and set aside.
In a small bowl, whisk together all dressing ingredients and set aside.
In a medium bowl, add the romaine, cucumber, tomatoes, parsley, and mint. Lightly toss to combine. Drizzle the dressing over the salad and toss until well-coated. Add the bread pieces and toss until combined then serve.
Ad blocker interference detected!
Wikia is a free-to-use site that makes money from advertising. We have a modified experience for viewers using ad blockers

Wikia is not accessible if you've made further modifications. Remove the custom ad blocker rule(s) and the page will load as expected.