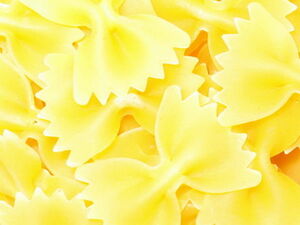 Name Variations
Edit
bow ties
bow-tie pasta
bows
butterfly pasta
About Farfalle
Edit
Wikipedia Article About Farfalle on Wikipedia
Farfalle is a type of pasta commonly known as "bow-ties". The name actually derives from the Italian word for butterfly. Farfalle comes in several sizes, but has a distinctive bowtie shape — smaller versions used in soups are called farfalline. Usually the farfalle is formed from a square of pasta with two sides trimmed in a ruffled edge, and the center pinched together to make the unusual shape. They are sometimes ridged, known as 'Farfalle rigate'. Different colors are available; plain, tomato and spinach. These are often sold together in a mix. Suitable for most sauces, Faralle are very well suited to cream and tomato dishes, children have a particular affinity for them. In Modena Farfalle are known as strichetti.
Culinary directory of recipes for cooking farfalle.
Preparation Methods
Ad blocker interference detected!
Wikia is a free-to-use site that makes money from advertising. We have a modified experience for viewers using ad blockers

Wikia is not accessible if you've made further modifications. Remove the custom ad blocker rule(s) and the page will load as expected.