Description
Edit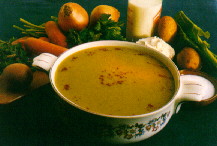 Ezme Sebze (cream of Vegetable Soup) is usually prepared in western regions, especially in the winter.
Ingredients
Edit
Directions
Edit
Add flour mixing well.
Reduce heat.
Simmer until rice is tender.
Dice all vegetables.
Stir in simmering onion-rice mixture.
Simmer for 30 – 35 minutes until vegetables are tender.
Place into a food processor container.
Process until well blended and creamy.
Bring to boil and simmer for 1 minute.
Blend into a soup stirring constantly.
Serve hot.
Ad blocker interference detected!
Wikia is a free-to-use site that makes money from advertising. We have a modified experience for viewers using ad blockers

Wikia is not accessible if you've made further modifications. Remove the custom ad blocker rule(s) and the page will load as expected.