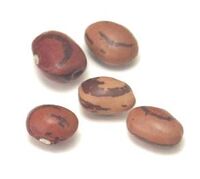 Name Variations
Edit
eye of goat bean
frijol ojo de cabra
About Eye of the goat bean
Edit
Wikipedia Article About Eye of the goat bean on Wikipedia
This heirloom bean of Northern Mexico stays firm and richly colored after cooking, so it's great as a side dish or in salads. These beans are somewhat similar in appearance to black-eyed peas and are sometimes incorrectly called "black-eyed peas" and vice versa.
Ad blocker interference detected!
Wikia is a free-to-use site that makes money from advertising. We have a modified experience for viewers using ad blockers

Wikia is not accessible if you've made further modifications. Remove the custom ad blocker rule(s) and the page will load as expected.