Description
Edit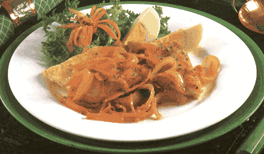 This recipe is for 1 servings
Ingredients
Edit
Directions
Edit
Bring the vinegar, water, peppercorns, bay leaves, and salt to a boil in a non-aluminum saucepan.
Let cool.
Heat the oil in a large skillet over medium-high heat.
Add the fish, and fry until brown on both sides, turning once, 3 to 5 minutes.
Drain on paper towels.
Arrange half of the sliced vegetables in a shallow earthenware dish.
Place the fish fillets on top, and cover with the remaining vegetables.
Pour the pickling liquid over the fish; cover the dish, and refrigerate overnight or up to 24 hours.
Ad blocker interference detected!
Wikia is a free-to-use site that makes money from advertising. We have a modified experience for viewers using ad blockers

Wikia is not accessible if you've made further modifications. Remove the custom ad blocker rule(s) and the page will load as expected.