Description
Edit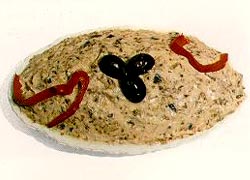 Source: Ayla Esen Algar, The Complete Book of Turkish Cooking.
This recipe is for 4 servings.
Ingredients
Edit
Directions
Edit
Cook unpeeled eggplant until it is charred on the outside and the flesh is thoroughly soft.
Cool slightly and then peel.
Wipe clean and squeeze out all the water.
Place eggplant in a bowl with the lemon juice and salt.
Mash well.
Ad blocker interference detected!
Wikia is a free-to-use site that makes money from advertising. We have a modified experience for viewers using ad blockers

Wikia is not accessible if you've made further modifications. Remove the custom ad blocker rule(s) and the page will load as expected.