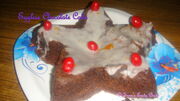 Prep Time:
Cook time: 45 minutes
Serves: 10
Description
Edit
Chocolate will be everyone's favorite. Chocolate cake is made with chocolate/cocoa powder. Chocolate cake is a cake flavored with melted chocolate or cocoa powder.
Ingredients
Edit
Directions
Edit
Sieve flour, cocoa powder, baking powder and baking soda twice.
Melt butter, add the powdered sugar and mix until frothy.
Add the flour mixture, vinegar and milk, mix gently for five minutes and in a single direction.
Preheat the oven to 180°C.
Grease the baking tray with butter and dust with flour.
Pour the cake batter into the tray and bake for 20-30 minutes or until the knife inserted into the cake comes out clean.
Let the cake cool and reach room temperature.
Mix the icing sugar with the lemon juice and make into a paste.
Apply this icing on the cool cake.
Arrange the cherry on top.
Ad blocker interference detected!
Wikia is a free-to-use site that makes money from advertising. We have a modified experience for viewers using ad blockers

Wikia is not accessible if you've made further modifications. Remove the custom ad blocker rule(s) and the page will load as expected.