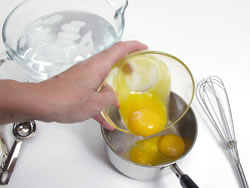 About egg yolk
Edit
The egg yolk is the yellow inside an egg. Its primary purpose is to serve as a food reserve for the developing embryo. The clear part which surrounds the yolk is known as the egg white or albumen. They are a good source of protein, iron, vitamins A and D. Egg yolks are also high in cholesterol (about 213 milligrams per egg).
Ad blocker interference detected!
Wikia is a free-to-use site that makes money from advertising. We have a modified experience for viewers using ad blockers

Wikia is not accessible if you've made further modifications. Remove the custom ad blocker rule(s) and the page will load as expected.