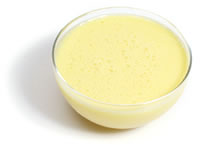 An egg substitute is a must if you're baking without eggs. While many people use flax seeds, bananas or even silken tofu to replace the eggs in a baked recipe, some prefer brand name substitutes like "Ener-G egg replacer". Egg substitutes are made from a variety of raising ingredients. Even if you're not vegan, using egg replacer while baking will help lower your cholesterol intake and, as one box is the equivalent of 100 eggs, it's a good investment as well.
A liquid sold in cartons, this product is usually a blend of egg whites, food starch, corn oil, skim-milk powder, tofu, artificial coloring and a plethora of additives. It contains no cholesterol but each serving is almost as high in sodium as a real egg. Egg substitutes can be scrambled and also used in many baking and cooking recipes calling for whole eggs.
Ad blocker interference detected!
Wikia is a free-to-use site that makes money from advertising. We have a modified experience for viewers using ad blockers

Wikia is not accessible if you've made further modifications. Remove the custom ad blocker rule(s) and the page will load as expected.