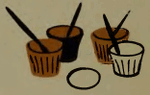 This is an easy way to decorate cookies and a great alternative to using frosting.
Ingredients
Directions
1.Blend well 1 egg yolk and 1/4 teaspoon water.

2.Divide mixture among several small custard cups. Add a different food coloring to each cup to make bright colors.

3.Paint designs on cookies with small paintbrushes.
Notes
If egg yolk paint thickens on standing, add a few drops of water.
Source
Ad blocker interference detected!
Wikia is a free-to-use site that makes money from advertising. We have a modified experience for viewers using ad blockers

Wikia is not accessible if you've made further modifications. Remove the custom ad blocker rule(s) and the page will load as expected.