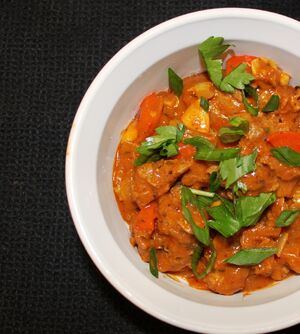 Description
Edit
Contributed by Catsrecipes Y-Group
Ingredients
Edit
Directions
Edit
Melt the butter in a large skillet over medium heat.
Sprinkle on the flour and cook, stirring constantly, until the roux turns a light tan.
Add the onions, bell peppers, celery, and ham, and sauté until the onions are soft and golden, about 10 minutes. (the roux should darken further during this cooking).
Add the garlic, eggs, salt, and cayenne and cook for 2 minutes.
Add the stock or water little by little, stirring the whole time to avoid lumps.
Bring to a boil.
Reduce heat to medium-low and simmer for 6 to 8 minutes, stirring occasionally.
Add the parsley and green onions.
Stir and cook for about 2 minutes more.
Serve right away.
Ad blocker interference detected!
Wikia is a free-to-use site that makes money from advertising. We have a modified experience for viewers using ad blockers

Wikia is not accessible if you've made further modifications. Remove the custom ad blocker rule(s) and the page will load as expected.