Description
Edit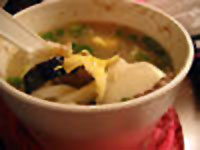 This is a delicious soup that Koreans serve at the New Year. You won't find these ingredients in your local grocery store, but an oriental market should have them. This soup is pretty easy, but looks beautiful when served.
Preparation: 20 minutes.
This recipe is for 6 servings.
Ingredients
Edit
Toppings
Edit
Directions
Edit
Bring broth to a boil.
Add dashida and rice cakes.
Boil until rice cakes are tender, about five minutes.
Add green onion and cook for one minute. Remove from heat.
Beat eggs and cook in a thin sheet. Cut into thin strips that are about two inches long.
Cut Beef into two-inch-long strips and brown.
Boil dumplings until tender.
For each bowl of soup: spoon soup into bowl and add desired toppings.
Ad blocker interference detected!
Wikia is a free-to-use site that makes money from advertising. We have a modified experience for viewers using ad blockers

Wikia is not accessible if you've made further modifications. Remove the custom ad blocker rule(s) and the page will load as expected.