Contributed by Healthy Recipes For Diabetic Friends Y-Group
Find this recipe at: Diabetic Gourmet
Source: MealLeaniYumm! All That's Missing is the Fat
Author: Norene Gilletz
Yield: 6 servings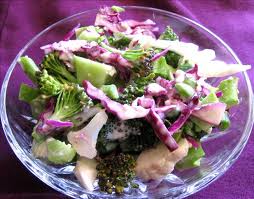 Ingredients
Edit
Directions
Edit
Wash vegetables well; drain thoroughly.
Combine all ingredients in a glass bowl and mix well (optional: steam the veggies for 3 or 4 minutes if your prefer them softer).
Nutritional information
Edit
Calories: 68
Protein: 6 g
Fat: 2.2 g
Carbohydrates: 8 g
Exchanges: 1 vegetable, ¼ low-fat milk
Ad blocker interference detected!
Wikia is a free-to-use site that makes money from advertising. We have a modified experience for viewers using ad blockers

Wikia is not accessible if you've made further modifications. Remove the custom ad blocker rule(s) and the page will load as expected.