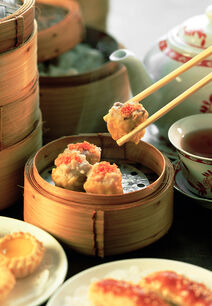 Ingredients
Edit
Directions
Edit
Mix meat with eggs, soy sauce, sheery, ginger, seasame oil and white pepper in a large bowl.
Separate mix into four equal parts. For each part, add one of the EXTRA condiments—mix well.
Divide the contents of the bowl into four equal parts and mix in the chilli sauce, bean sauce, hosin sauce, and grated orange peel.
Arrange the dumplings into their shape and stuff with contents.
Steam the dumplings on a rack for approx. 25 minutes.
Ad blocker interference detected!
Wikia is a free-to-use site that makes money from advertising. We have a modified experience for viewers using ad blockers

Wikia is not accessible if you've made further modifications. Remove the custom ad blocker rule(s) and the page will load as expected.