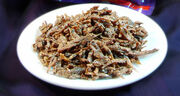 Description
Edit
Bite sized dried and spiced native Anchovies.
Ingredients
Edit
1/3 cup Sugar
1/3 cup vinegar
1 teaspoon red hot sauce
1/2 teaspoon salt
1/8 ounce package of dried dilis (Filipino Anchovies)
2 cups flours
Directions
Edit
Toss dilis in the mixture until well coated and dredge in flour.
In a medium skillet, fry dilis over moderate heat until golden brown and crispy, keeping each one separate.
Drain on paper towel.
Ad blocker interference detected!
Wikia is a free-to-use site that makes money from advertising. We have a modified experience for viewers using ad blockers

Wikia is not accessible if you've made further modifications. Remove the custom ad blocker rule(s) and the page will load as expected.