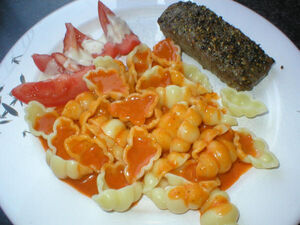 A basic brown sauce with the addition of wine, vinegar, shallots and red or black pepper. It's usually served with broiled meat or poultry.
A la diable refers to a French method of preparing poultry by grilling a split bird, which is then sprinkled with breadcrumbs and broiled until brown. The bird is served with diable sauce.
Ad blocker interference detected!
Wikia is a free-to-use site that makes money from advertising. We have a modified experience for viewers using ad blockers

Wikia is not accessible if you've made further modifications. Remove the custom ad blocker rule(s) and the page will load as expected.