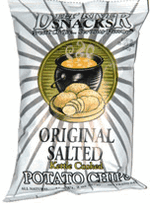 Description
Edit
According to the website for Deep River Snacks these chips are made using thickly sliced grade A potatoes which are cooked in natural oil. The chips contain no cholesterol, MSG, artificial flavors, artificial preservatives or trans fats.
Snack review site taquitos.net said that while some of the chips weren't crisp enough, the chips that were had a lot of "salty potato taste." Taquitos.net praised the aroma of the chips saying it was "nice and potatoey."
Ad blocker interference detected!
Wikia is a free-to-use site that makes money from advertising. We have a modified experience for viewers using ad blockers

Wikia is not accessible if you've made further modifications. Remove the custom ad blocker rule(s) and the page will load as expected.