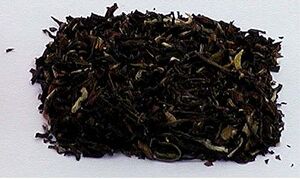 Called the "champagne" of teas, Darjeelings are the highest grown teas in the world (40~ feet). Light body and golden or amber in color, Darjeelings can have a sweet muscat (grape) flavor or a more crisp astringent flavor. Served in the afternoon without milk. Requires the most precision in steeping.
Type - Black Tea
Origin - Darjeeling
This strong, full-bodied black tea comes from India's province of Darjeeling, in the foothills of the Himalayas. Darjeeling tea leaves are grown at about 7,000 feet and are considered one of India's finest.
Ad blocker interference detected!
Wikia is a free-to-use site that makes money from advertising. We have a modified experience for viewers using ad blockers

Wikia is not accessible if you've made further modifications. Remove the custom ad blocker rule(s) and the page will load as expected.