This is my mother's recipe with a few adaptations by me. They are wonderful crisp white, sweet pickles that go well with anything (except maybe ice cream). You nearly always see this pickle on Danish open faced Liver pate sandwiches.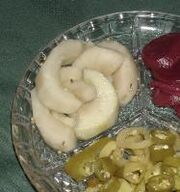 Ingredients
Edit
Divide, into each of the 8 jars before packing
Edit
Directions
Edit
Sterilize 8 Pint jars.
Make syrup by, putting the Sugar, vinegar and water in a large pot, stirring until the Sugar dissolves, and bring to a boil, when you fill jars have it at a full boil.
Peel the cucumbers, cut in half lengthwise and scoop out the seeds.
Cut cucumbers into1/2 " spears that are about 3/4 " shorter than the pint jar, thus allowing some headroom. As you are cutting up the cukes put the prepared ones in ice-water until you put them into the jars Pack jars tightly with the spears standing upright( spears go on top of the spices already in the jar).
Fill jars with boiling vinegar/syrup and seal.
Ad blocker interference detected!
Wikia is a free-to-use site that makes money from advertising. We have a modified experience for viewers using ad blockers

Wikia is not accessible if you've made further modifications. Remove the custom ad blocker rule(s) and the page will load as expected.