---
This article needs some work. You can help by adding some more information to it.
---
Denmark - Cooking and Food
Edit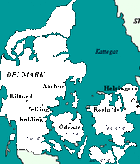 The traditionel cuisine: Stegt flæsk med persillesovs, Hakkebøf med bløde løg, brun sovs og kartofler.
Regional Dishes: sol over Gudhjem, rygeost, æggekage, drømmekage fra Brovst
Street Food: Pølsevogn, pita, pizza, durum
New Danish Cuisine/ New Nordic Cuisine: As you see it in the restaurants "Noma" and "Geranium". The Idea is to create dishes with ingredients from the local region.
The cooking style of the Danes was affected in time by many nations.
Kåldolmere: The jewish people introduced this Mediterranian dish to the Danes. Since we don´t have the climate to grow wineleaves, we use cale. 
Preparation Methods for Danish Cooking
Edit
Special Equipment for Danish Cooking
Edit
Rullepølsepresse: If you want to make a "rullepølse".
Æbleskivepande and knitting needle: If you want to make "æbleskiver".
Apart from that, danish dishes don't require you to purchase any special tools.
Danish Food Traditions and Festivals
Edit
Julefrokost: sylte, æbleflæsk
Christmas Eve (Juleaften) roast duck or pork with cracklings with white potatoes, caramelised potatoes, pickled red cabbage and gravy. dessert: Ris a la mande ( a ricedessert with vanilla, sugar and almonds) With warm or cold cherry sauce.
Easter Lunch (Påskefrokost): You start with the fish, differnt kind of raw marinated heerings, gravad and smoked salmon on white bread, smoked eel with scrambled eggs and chives continue with a variation of warm and cold dishes that goes well with rye bread. and finish with a variation of different cheeses with crackers, white bread and rye bread and fruits. You eat for several hours only interrupted by laughing, talking, drinking beer and snaps and of course saying a lot of "skål". Not so funny if you are the designated driver....
Soup, roast and icecream (Suppe, steg og is): A traditional food concept that all Danish with traditional families know. Variations of this menu have been served for decades. Luckily people are getting bolder and more ready to try something new.
Smagens dag
Fastelavn
Det kolde bord is based on cold served dishes. Herring is most likely the ingredient of the first dish that is served at this meal, although most of the types are based on meat.
People in Danish Food
Edit
Are you into Danish Cooking and would like to be interviewed?
Other Regional Links
Edit