Cauliflower takes on a different flavor when seasoned with Indian curry. Serve over brown rice.
Info
Cook Time: 20 minutes
Serves: 4
Ingredients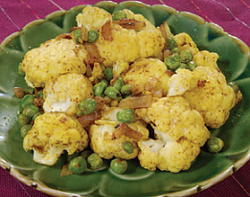 Directions
1.Heat canola oil in large skillet. Add onion and sauté for one minute.

2.Add remaining ingredients and stir until vegetables are coated with spices.

3.Cook on medium heat for 10 minutes, stirring often.
Tip
Use turmeric instead of curry for a milder flavor.
Buy fresh or frozen, pre-cut cauliflower to save time. You will need about 3 cups or 15 ounces.
Source
Ad blocker interference detected!
Wikia is a free-to-use site that makes money from advertising. We have a modified experience for viewers using ad blockers

Wikia is not accessible if you've made further modifications. Remove the custom ad blocker rule(s) and the page will load as expected.