Ingredients
Edit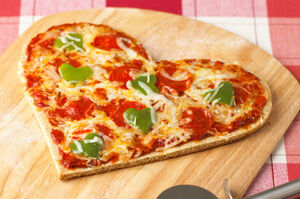 Heart-shaped cookie cutter (optional)
Roasted red peppers
Pepperoni slices
1 or 2 ready-made pizza crusts
Ready-made pizza sauce
8-ounce bag of Italian-blend shredded cheese
Directions
Edit
Use a knife or cookie cutter to shape the red peppers and pepperoni slices into hearts.
Then cut one crust into a heart shape, saving the excess crust for later.
Spread a thin layer of olice oil on the heart-shaped crust.
Top with pizza sauce and then cheese.
Arrange the peppers and pepperoni hearts on the pizza.
Form the arrow shape out of pieces of leftover crust or cut it out of a second crust.
Top the arrow with a little olive oil.
Bake the pizza according to the directions on the pizza crust package.
Ad blocker interference detected!
Wikia is a free-to-use site that makes money from advertising. We have a modified experience for viewers using ad blockers

Wikia is not accessible if you've made further modifications. Remove the custom ad blocker rule(s) and the page will load as expected.