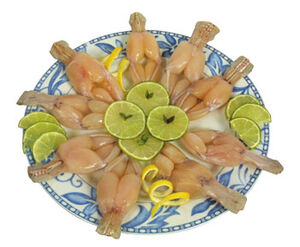 Frog's legs. The only edible part of a frog is its hind legs. The delicate meat is tender and lightly sweet and can be most closely compared to the white meat of a very young chicken. They're usually sold in connected pairs ranging from 2 to 8 ounces. Look for those that are plump and slightly pink. Because their flavor is so subtle, frog's legs should be cooked simply and briefly. A quick dusting of seasoned flour before sautéing in butter or olive oil will gild the lily perfectly. Overcooking frog's legs will cause them to toughen.
Ad blocker interference detected!
Wikia is a free-to-use site that makes money from advertising. We have a modified experience for viewers using ad blockers

Wikia is not accessible if you've made further modifications. Remove the custom ad blocker rule(s) and the page will load as expected.