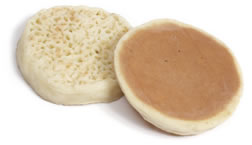 Hailing from the British Isles, crumpets are small, yeast-raised breads about the size of an English muffin. The unsweetened batter is poured into special crumpet rings (which have been arranged on a griddle), then baked on stovetop. The finished crumpet has a smooth, brown bottom and a top riddled with tiny holes. Crumpets are toasted whole (unlike English Muffins, which are split) and spread with butter and jam, as desired.
Ad blocker interference detected!
Wikia is a free-to-use site that makes money from advertising. We have a modified experience for viewers using ad blockers

Wikia is not accessible if you've made further modifications. Remove the custom ad blocker rule(s) and the page will load as expected.