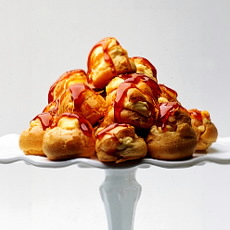 French for crisp in mouth," this elaborate dessert is classically made with Profiteroles (tiny, custard-filled cream puffs), coated with caramel and stacked into a tall pyramid shape. As the caramel hardens, it becomes crisp. For added glamour, the croquembouche can be wreathed or draped with spun sugar.
Ad blocker interference detected!
Wikia is a free-to-use site that makes money from advertising. We have a modified experience for viewers using ad blockers

Wikia is not accessible if you've made further modifications. Remove the custom ad blocker rule(s) and the page will load as expected.