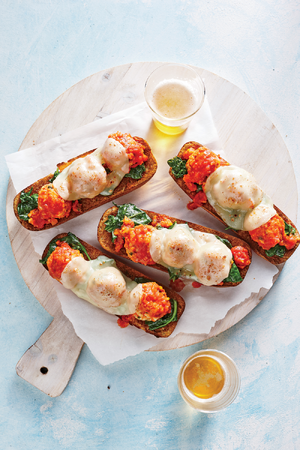 Description
Edit
Contributed by Catsrecipes Y-Group
Source: Southern Living 2007 Main Dish Marvels
Prep: 5 minutes | Cook: 6 hr
Makes 6 servings
Ingredients
Edit
24 frozen cooked Italian-style meatballs, thawed (like Mama Mia brand)
1 (26-oz) jar super chunky mushroom pasta sauce (like Ragu)
1 (15-oz) can Italian-style tomato sauce (like Hunt's)
1 (5.5-oz) can spicy tomato juice (like V8 spicy juice)
6 (6-inch) hoagie rolls, split but not cut through and toasted
1½ cups (6 oz) shredded mozzarella cheese
Directions
Edit
Combine first 4 ingredients in a 3-qt slow cooker.
Cover and cook on high 1 hour.
Reduce heat to low and cook 4½ – 5 hours or until slightly thickened.
Spoon meatball mixture evenly over rolls.
Sprinkle with cheese.
Ad blocker interference detected!
Wikia is a free-to-use site that makes money from advertising. We have a modified experience for viewers using ad blockers

Wikia is not accessible if you've made further modifications. Remove the custom ad blocker rule(s) and the page will load as expected.