Description
Edit
A fresh combination of prawns and real cream is made rich with tomato purée, enriched with butter, and cooked to smooth perfection.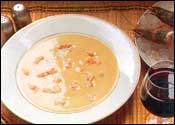 Ingredients
Edit
Directions
Edit
Wash prawns thoroughly. Heat 5 cups of water in a medium saucepan and add prawns. Bring to a boil and lower heat. Simmer uncovered for 20 minutes. Remove from flame.
Strain liquid and reserve. Shell and devein prawns. Chop the onion finely. Peel and chop carrot roughly. Crush garlic and chop deveined prawns finely.
In a large saucepan, heat butter. Add the onion, carrot and garlic and fry on medium flame for 3 minutes. Add prawn stock, basil, chicken or fish cube, salt, and tomato puree.
Bring to a boil, lower heat, and simmer uncovered for 5 minutes. Remove from flame and blend in batches in a mix until smooth. Return to flame.
In a bowl, mix flour and ⅓ cup water into a smooth paste. Add to soup, stirring constantly. Bring to a boil and allow soup to thicken.
Lower heat and stir in cream and half the prawns. Heat gently for 5 minutes without allowing the soup to boil. Serve hot and garnished with remaining prawns.
See also
Edit
Ad blocker interference detected!
Wikia is a free-to-use site that makes money from advertising. We have a modified experience for viewers using ad blockers

Wikia is not accessible if you've made further modifications. Remove the custom ad blocker rule(s) and the page will load as expected.