Description
Edit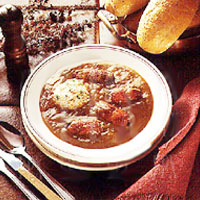 A terrific soup from Texas Tapestry cookbook. Enjoy!
Ingredients
Edit
Directions
Edit
Heat the oil in a large, heavy pan.
Add the onion, garlic, celery and the white parts of the scallions and cook until softened, stirring occasionally.
Gradually stir in the water, then add the tomato paste, thyme, bay leaf, 4 tbsp of the parsley, allspice berries, cloves, salt, peppers, cayenne to taste and the lemon juice.
Bring to a boil, stirring well.
Chop about one-quarter of the crawfish tails and add with the fat, if available.
Cover and simmer for 1 hour, stirring occasionally.
Add the remaining whole crawfish tails and simmer, covered for 15 minutes or longer.
Stir in the green parts of the scallions and the remaining parsley.
Serve hot over rice.
If available, add 12 or more stuffed crawfish heads (thawed if frozen) 5 minutes before serving.
Ad blocker interference detected!
Wikia is a free-to-use site that makes money from advertising. We have a modified experience for viewers using ad blockers

Wikia is not accessible if you've made further modifications. Remove the custom ad blocker rule(s) and the page will load as expected.