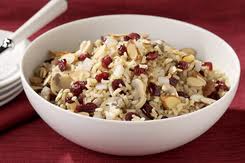 Description
Edit
.
Ingredients
Edit
Directions
Edit
1. Heat stock in saucepan over medium heat until boiling. Stir in rice, and bring to second boil. Reduce heat to low, cover and cook for 40 minutes, stirring occasionally.
2. Meanwhile, drizzle lemon juice over diced Apple, and set aside.
3. Heat oil in medium-sized saucepan over medium-high heat for 1 minute. Add garlic, scallions and celery, and sauté for 3 minutes. Add cooked rice, diced Apple, cranberries and parsley. Mix thoroughly, reduce heat to low and cook 8 minutes.
Other Links
Edit
See also
Edit
Ad blocker interference detected!
Wikia is a free-to-use site that makes money from advertising. We have a modified experience for viewers using ad blockers

Wikia is not accessible if you've made further modifications. Remove the custom ad blocker rule(s) and the page will load as expected.