Description
Edit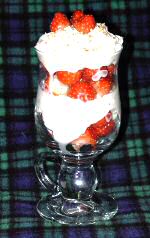 This recipe combines traditional Scottish produce to good effect, creating a mouthwatering dessert that is a delightful treat whenever fresh soft fruit is in season. Although this elegant desert is popular across Scotland, it is consumed in enormous quantities in the Loch Ness area and in the Northeast of Scotland where huge, fat, juicy raspberries abound in late summer.
Ingredients
Edit
Directions
Edit
Ad blocker interference detected!
Wikia is a free-to-use site that makes money from advertising. We have a modified experience for viewers using ad blockers

Wikia is not accessible if you've made further modifications. Remove the custom ad blocker rule(s) and the page will load as expected.