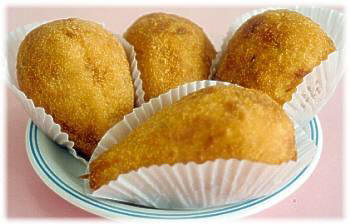 Ingredients
Edit
Directions
Edit
Combine Chicken breast, chopped Onion, garlic, Beef bouillon, salt, ground pepper, margarine and 3 cups of water in a pressure cooker and Chicken is ready in 10 minutes
Increment the filling with parsley, green onions and cream cheese.
Bring exactly 3 cups of the remaining broth to boil.
Add the 3 cups of flour into the boiling water and stir vigorously with a wood spoon for about 1 minute until it become dough.
Take dough out of pan.
When warm, knead dough until it becomes smooth and dissolve the flour lumps (about 10 minutes).
Flatten dough with a rolling pin to about ¼-inch thick and cut medium size circles with a biscuit cutter.
Fold and close the dough in a shape of a drum stick
Baste the filled dough with egg whites and roll them over breadcrumb.
Deep-fry the snacks 350 °F for about 8 minutes or until golden brown.
Ad blocker interference detected!
Wikia is a free-to-use site that makes money from advertising. We have a modified experience for viewers using ad blockers

Wikia is not accessible if you've made further modifications. Remove the custom ad blocker rule(s) and the page will load as expected.