Description
Edit
Try this Irish dish for a hearty and filling meal.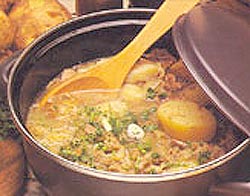 Ingredients
Edit
Directions
Edit
Season Lamb chops with salt and pepper. In a large saucepan, heat oil and brown the chops on both sides. Remove any melted fat that may accumulate. When all the Lamb chops are brown, add water to cover them. Bring to a boil. Add small amounts of parsely, bay leaf, peppercorns, thyme and rosemary in cheesecloth. Reduce heat and simmer. Add potatoes, cabbage, Onion, leek, white onions and celery. Simmer for 20 minutes. Add the Peas. If needed, add more water. Simmer for 10 minutes more or until the potatoes are soft. Add seasoning according to your desired taste. Garnish with freshly cut parsley. Serve hot.
Other Links
Edit
See also
Edit
Ad blocker interference detected!
Wikia is a free-to-use site that makes money from advertising. We have a modified experience for viewers using ad blockers

Wikia is not accessible if you've made further modifications. Remove the custom ad blocker rule(s) and the page will load as expected.