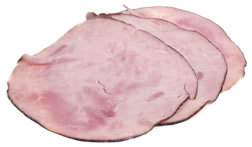 Ham that has been dry-cured in a mixture of salt, sodium nitrate, sugar and other seasonings for a period of days (depending on the weight of the ham). The salt is then rinsed off and the ham is slowly smoked over hardwood fires before being aged 6 to 12 months. Most are sold uncooked, though fully cooked hams are now becoming more readily available.
Ad blocker interference detected!
Wikia is a free-to-use site that makes money from advertising. We have a modified experience for viewers using ad blockers

Wikia is not accessible if you've made further modifications. Remove the custom ad blocker rule(s) and the page will load as expected.