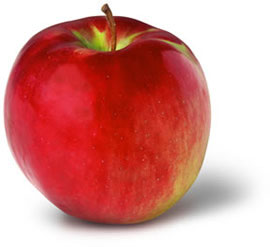 Name Variations
Edit
About Cortland apple
Edit
Wikipedia Article About Cortland apple on Wikipedia
A popular apple in the Northeast and northern Midwest, the Cortland has a smooth, shiny red skin. Its flesh is crisp, juicy, sweet-tart and resists browning. It's an all-purpose apple good for cooking as well as out-of-hand eating.
After the many attributes of McIntosh were discovered, plant breeders began crossing it with other varieties to enhance its traits. One of the earliest was the Cortland, combined with the Ben Davis variety. Its flavor is sweet compared to McIntosh, and it has a flush of crimson against a pale yellow background sprinkled with short, dark red stripes and gray-green dots. Cortland has very white flesh and is an excellent dessert apple. This all purpose apple was developed at the New York State Agricultural Experiment Station in Geneva, New York, USA in 1898. The apple was named after nearby Cortland County, New York.
Ad blocker interference detected!
Wikia is a free-to-use site that makes money from advertising. We have a modified experience for viewers using ad blockers

Wikia is not accessible if you've made further modifications. Remove the custom ad blocker rule(s) and the page will load as expected.