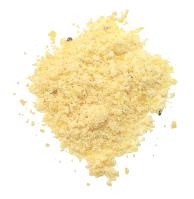 Name Variations
Edit
corn flour
cornflour
mealie meal
mush
yellow cornmeal
About Cornmeal
Edit
Wikipedia Article About Cornmeal on Wikipedia
Corn flour is popular in the Southern and Southwestern US and in Mexico. Coarse whole-grain corn flour is usually called corn meal. Corn meal that has been bleached with lye is called masa harina (see masa) and is used to make tortillas and tamales in Mexican cooking. Corn flour should never be confused with cornstarch, which is known as "cornflour" in British English.
See also
Edit
Ad blocker interference detected!
Wikia is a free-to-use site that makes money from advertising. We have a modified experience for viewers using ad blockers

Wikia is not accessible if you've made further modifications. Remove the custom ad blocker rule(s) and the page will load as expected.