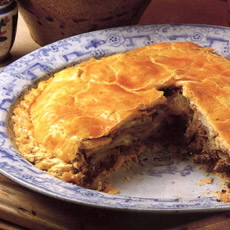 Named after Cornwall, England, these savory Turnovers consist of a short-crust pastry enfolding a chopped meat-and-potato filling. Other vegetables and sometimes fish are also used. In the 18th and 19th centuries, pasties were the standard lunch of Cornwall's tin miners. It was common to place a savory mixture in one end and an apple mixture in the other so both meat and dessert could be enjoyed in the same pasty.
Ad blocker interference detected!
Wikia is a free-to-use site that makes money from advertising. We have a modified experience for viewers using ad blockers

Wikia is not accessible if you've made further modifications. Remove the custom ad blocker rule(s) and the page will load as expected.